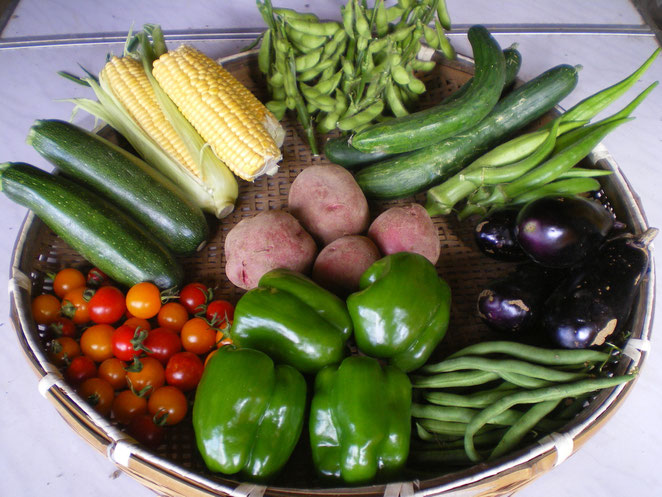 枝豆
きゅうり
おくら
なす
インゲン 又は 空芯菜
ピーマン 
ミニトマト
ズッキーニ
とうもろこし
じゃがいも(アンデスレッド)
edamame soy beans
cucumbers
okra
eggplants
green beans or morning glory
green peppers
cherry tomatoes or tomatoes
zucchini
sweet corn
potatoes (Red Andes)
枝豆やオクラ、掘りたてのアンデスレッドじゃがいも、インゲンが新たに加わりました。インゲンがあまりたくさんとれないので、土曜日のお客様には代わりに別の緑野菜をお入れするかもしれません。予めご了承下さい。
In our box this week, we have freshly harvested Red Andes potatoes, edamae soybeans, okra, and green beans among othe...r goodies. For Saturday's box, we may have to put other green vegetables instead of green beans, depending on the availability. Thank you for your understanding.

なお、大好評のトウモロコシが今週で一旦お休みになるかもしれません。Sweet corn may not be available next week, until the next batch is ready for harvest.